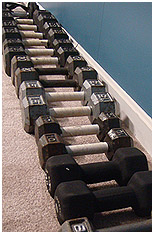 Our Fitness Room is available to our members free with any class membership and also free for Lil' Dragons, Blue Dragons, and Red Dragons parents to use as well.

The room is equipped with several multi-station machines that provide just about any exercise you want to work. There are also graduating sets of hand weights, fitness stability balls, leg weights and a treadmill available.
If you need help getting started, we can orient you to all the equipment and help you set up a routine that targets the areas you want to work or to reach the goals you've set.

The Fitness Room is open to all members and immediate family Monday - Wednesday from 5:30-9pm.
For further information, you can call or email..